Skip to Content
Does Your Business Need a Depository Safe?
A depository safe is a valuable addition to keeping a business' assets safe. It is the best way to keep large amounts of cash, checks, and/or important documents out of the wrong hands. Safes are a great place to keep money until it can be deposited at the bank. But that is not their only use. Safes protect businesses from potential robberies and burglaries.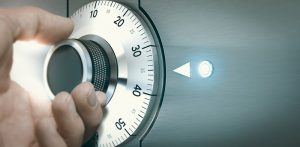 Available in a wide range of shapes and sizes, there are many businesses out there that could benefit from a safe and feel more secure about their assets. Depending on your business, the need for a safe, and the location of the safe, will depend on what style safe you need. 
Some safes come with a small opening where employees can drop in cash or checks without having to open it. Whether you need a high-volume safe or a business safe that is fire-resistant, there are numerous options available on the market.
If you have a hard time keeping your business' cash, important documents, or sensitive information organized and secured, a safe could be the best option. Secure the assets most important to your company's success!
Who Needs a Safe?
Depository safes are ideal for many businesses, including but not limited to:
Auto shops

Bars

Churches

Convenience stores

Gas stations

Government buildings

Car washes

Hotels and motels

Nonprofits

Pawn shops

Police departments

Restaurants

Retail stores

Rental car places
3 Reasons You Need a Depository Safe
Preventing Theft by Employees 
A lot of robberies come from an inside security threat. In addition to preventing your business from outside burglaries, some robberies companies experience come from one of their own employees within the company. It is important to keep the most important assets (client credit card information, employee social security numbers, etc.) locked away from everyone except only a few most trusted. 
Robbery Protection 
For many companies, robberies are more common than we would like. Keeping only a few forms of dollar bills in the cash register and putting the rest in a locked safe limits the amount of money that can be stolen by a robber. Never keep large sums of money in the front cash register.
Lower Insurance Premiums 
In addition to saving money and protecting the business, having a security measure in place can also reduce a company's insurance premium. It is a smart investment that could end up saving you a lot of money in the long run, a win-win situation. 
Protecting the thing you have put the most time, money, and effort into is extremely important. A depository safe could be just what your company is missing for full-protection. Here at Capital Lock, we will ensure your business is protected and safe at all times. Give our team a call at 608-736-2169.
Capital Lock Is Your Key to Security