Skip to Content
How to Properly Maintain Your Safe
While safes are built to last a long time, they are not indestructible. But regular safe maintenance keeps them in shape and in perfect working condition. This will also help you save up while ensuring the safety of your valuables. Your methods don't have to be overly complicated to count, too.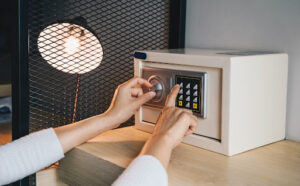 That being said, here are a few simple ways you can maintain your safe.
Be Gentle With Your Safes
This is an unspoken rule when you own any kind of safe. While steel safes are hard enough to withstand physical stress, you still need to be delicate when using them. Even if this is a rare occurrence, mishandling a safe causes a few problems. You can knock gears in the locking mechanism out of place, which will keep it from opening or closing completely.
Remember that safes of any design or purpose are strong but far from indestructible. As such, be as gentle as you can when taking your valuables in and out of your safe.
Clean Out the Safe's Space
Some safes can be installed on walls and floors. Due to the way they're placed, however, they tend to be more prone to weathering and rust. So, try to clean out the safe's space from time to time. You can also ask a locksmith for tips to ward off dust.
Ensure Your Locking Mechanisms Are Lubricated
Wear and tear is inevitable with safes. The constant opening and closing will wear out their internal mechanisms, leading to trouble opening and closing them. However, if you keep the gears well lubricated, you can avoid this. Apart from that, getting advice from a locksmith is always great.
Hire Professional Help
It's okay to ask for help when you're unsure about things. When your safe is malfunctioning and you don't know how to fix it, call a professional locksmith. While it may be fulfilling to face problems like this on your own, a professional's insight saves you time and trouble.
On your own, it might take longer to fix this problem, while hiring a locksmith helps solve things faster.
Have Timely Safe Inspections
Another way to prevent your safe from sustaining malfunction-causing damage is by scheduling inspections from a trustworthy locksmith. Their extensive knowledge of safes will allow them to see whether yours is starting to show signs of wear and tear. This helps them deduce if it is time to perform repairs.
The inspections don't need to happen too frequently. After looking at your safe, your hired locksmith can help you organize the dates for the inspections with just the right interval in between. Your locksmith can also help you adjust the schedule should anything come up with your safe.
Partner With Trustworthy Locksmiths for Great Safe Maintenance
Our knowledgeable locksmiths will be more than happy to assist you with matters concerning your home's security. If you have questions about your locks, keys, or safes, feel free to contact Capital Lock in Madison, WI for tips and repairs. 
Capital Lock Is Your Key to Security